Uniform Guidelines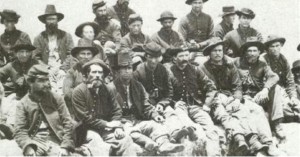 Pictured is the 7th Illinois, Co F, at Lookout Mountain, TN in June 1864

The following links will take you to the website of the 64th Illinois, Company E.
Information shared with permission.
December 1862 – Late 1862
Late 1862 – 1865
Rifles
Knapsack Packing
Jackets:
*     NY State or Illinois State shell jacket
*     Schuykill Arsenal Jacket
*     Federal four button fatigue coat
*     Frock coat
Trousers:
Sky blue foot pattern
Shirts:
Any civilian or issue pattern of correct period construction. Federal issue dommet flannel. Period prints and patterns allowed.
Socks:
Any civilian or issue knit wool or cotton socks. No rag wool or elastic.
Shoes:
Any Issue or Civilian shoe or boot of period construction. May be of Jefferson Bootee pattern or pull on boots of Civilian or military issue (1861 Artillery boot for example).
NO modern cowboy boots, work boots, combat boots, East German or WW2 German boots. See recommended vendors for foot wear.
Hats:
*     Black/dark brown civilian slouch hats or 1858 dress hats ( Hardee or Jeff Davis hats )
*     1858 Forage cap
*     Private purchase Kepi

NO Balmorals, or Glengarry caps. Knitted Tams, smoking caps, and sleeping caps are fine for camp wear (See EOG: US pgs 188-189). Scottish inspired caps are not allowed in ranks. Also not authorized are brass Irish harp devices.
Hat brass should be kept at a minimum, to none at all.
Overcoats:

US foot pattern
Accoutrements:
*     Black leather only with US plates
*     Cartridge box plates should be CENTERED on the cartridge box
*     Black painted cloth US haversacks
*     White cloth haversack ( 14th CT Infantry pattern from Echoes of Glory )
*     1858 smoothside or bullseye canteens only
*     1858 double bag knapsacks only
Weapon:
Preferred:
*     US 1841 Harpers Ferry Rifle ( Mississippi Rifle )
*     P1858 or P1860 Enfield Rifle ( two-band ) – sword bayonet purchased later
*     1860 Henry optional but for late war ONLY ( Atlanta Campaign and beyond )
Alternates:
*     M1855-1861 Springfield Rifled Musket
*     P1853 Enfield Rifled Musket ( three-band ) with Enfield bayonet and scabbard
NO 1863 REMINGTON RIFLES !! They did not see any service.