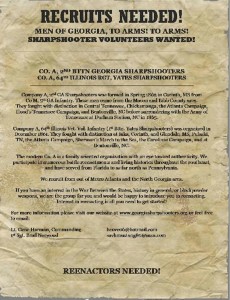 RECRUITS NEEDED!

MEN OF GEORGIA, TO ARMS! TO ARMS!
SHARPSHOOTER VOLUNTEERS WANTED!
___________________________________________
CO. A, 2ND BTTN GEORGIA SHARPSHOOTERS
CO. A, 64TH ILLINOIS RGT, YATES SHARPSHOOTERS
_______________________________________________
Company A, 2nd GA Sharpshooters was formed in Spring 1862 in Corinth MS from Co F, 5th GA Infantry, the men coming from the Macon and Bibb County area. They fought with distinction in Central Tennessee, Chickamauga, the Atlanta Campaign, Hood's Tennessee Campaign, and Bentonville, NC before surrendering with the Army of Tennessee at Durham Station, NC in 1865
Company A, 64th Illinois Vet. Vol. Infantry (1st Bttn. Yates Sharpshooters) was organized in December 1861. They fought with distinction at Iuka, Corinth, and Glendale, MS, Pulaski, TN, the Atlanta Campaign, Sherman's March to the Sea, the Carolinas Campaign, and at Bentonville, NC.
The Modern Co. A is a family oriented organization with an eye toward authenticity. We participate in numerous battle events and living histories throughout the southeast, and have served from Florida to as far north as Pennsylvania.
We recruit from all of Georgia, Southeast TN, Alabama, North FL, and South Carolina.
If you have an interest in the War Between the States, history in general, or blackpowder weapons, we are the group for you and would be happy to introduce you to living history.
Interest in history is all you need to get started!
Sgt. Gene Harmon, commanding