The following images and information are taken from the
February/March 1997 issue of Citizens Companion magazine – Volume III, Number 6.
Permission granted by and used courtesy of
The Citizens Companion and The Camp Chase Gazette.
Key to Color Image ( Top )
and Collodian Image ( Bottom )
The background of the fabric samples is medium blue.
Figure A. Solid Fabrics
Top Row, left to right: Deep red; canary yellow; chocolate brown; and teal.
Second Row, left to right: Gray-green; medium blue; black; and wine.
Third Row, left to right: Ecru; bright blue; white; and olive.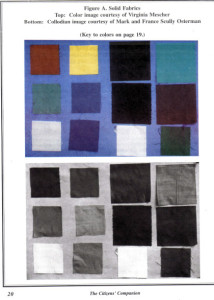 Figure B. Period woven plaids and roller prints
Top row, left to right: Narrow stripe of black and purple; print of olive and brown stripes with gold shots mingled with wine, gold and white circles; woven brown and light rust plaid; olive and black plaid; woven plaid of red, navy and light brown.
Second Row, left to right: Paisley pattern in rust, light rust, mouse brown, cream, and gray; double pink print; print of tan flowers on a navy background; print of gold background with rust dots in a pyramid pattern; wallpaper print of cinnamon with cream diamonds between cream and black stripes.
Third Row, left to right: Pin-dot print of gold dots on medium blue background; print of medium and dark blue flowers attached to a gold vine on a scarlet background; lime green print with black vines; starburst print of medium and lighter blue with black centers; wavy pattern print in light brown and black.